What Is Talent Mapping? SGA Talent explains.
We welcome you to download a copy of our "Talent Mapping Playbook" showing the many benefits talent mapping offers to business leaders. Download Now: https://www.sgatalent.com/talent-mapping
What is Talent Mapping?
Talent mapping provides talent intelligence and insight into a competitor's organization. It produces valuable data used for proactive recruiting efforts to build candidate pipelines for current and future roles as well as a great tool to support efforts that result in developing engaged talent communities.
Talent mapping is often delivered in organization chart format, proving a visual of relationships of who is who and who does what within an organization, taking the guesswork out of the equation.  It provides the recruiting team with the entire talent pool ensuring completeness and access to the potential talent universe reducing the chance of missing out on the "right candidate." Talent mapping is also becoming a go to resource to understand a competitor's structure after the pandemic.
For recruiting purposes, talent mapping data:
Decreases the time-to-hire
Reduces cost-per-hire
Quickly builds talent pipelines
Increases recruiting bandwidth
Scalable to meet hiring demands
Leverages Talent Pool Data & Analytics
For restarting the workplace – talent mapping helps understand a competitor's post pandemic organization structure
Providing insight into a competitor's new organization structure
Revealing real time data and intelligence
Assisting with making informed decisions
Allowing organizations to establish baselines, benchmarks, and goals to keep moving forward and be competitive
Example Of An Organization Pre-Pandemic

What does your competitor's organization structure look like Post-Pandemic?


Succession Planning – Now it is time to build engaged talent communities of those who have the skillsets your company may need tomorrow.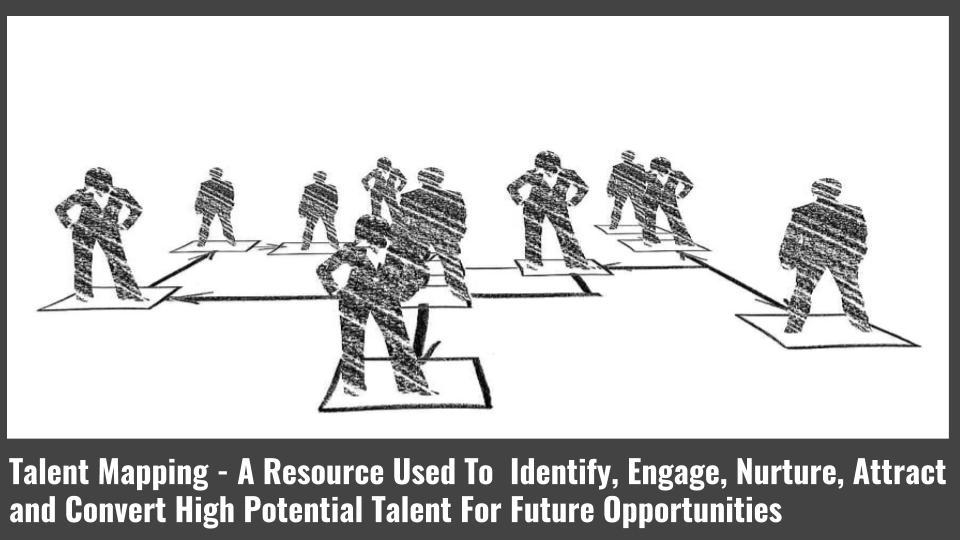 Talent mapping is a strategic service that is used by businesses to plan for short, medium and long term talent acquisitions.  Please download a copy of our  Talent Mapping PowerPoint to see the many benefits talent mapping offers. Download here: https://tinyurl.com/y35482g2  
Cheers!
Sheila Greco